Have you or someone you know travelled overseas in the last 14 days? If yes: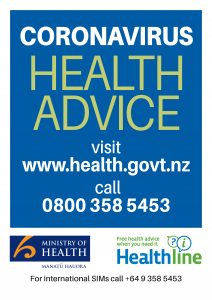 if you are

not

unwell and just want general advice, please call Healthline 0800 611 116,

or their coronavirus dedicated line

0800 358 5453
if you are unwell and need medical attention ring us on 09-5796147, and tell us your travel history
PLEASE DO NOT COME INTO OUR CLINIC DIRECTLY.

O
ur staff will arrange for a doctor or nurse to speak to you on the phone first, as special arrangements may be requested by the doctor after speaking to you. Our

Online Video Appointments

service is an alternative.
ALL travellers who leave from, or transit through mainland China, are required to SELF-ISOLATE for 14 days on arrival back to New Zealand.
If you fulfill the criteria for self-isolation, please
register your details with Healthline within 24 hours of arrival
so you can receive health support while you are in NZ.
Call the special coronavirus line on 0800 358 5453 to register
. If you are using an international SIM, call 
+64 9 358 5453.
The Ministry of Foreign Affairs recommends New Zealanders
DO NOT TRAVEL
to any part of mainland China. See full advice on
SafeTravel.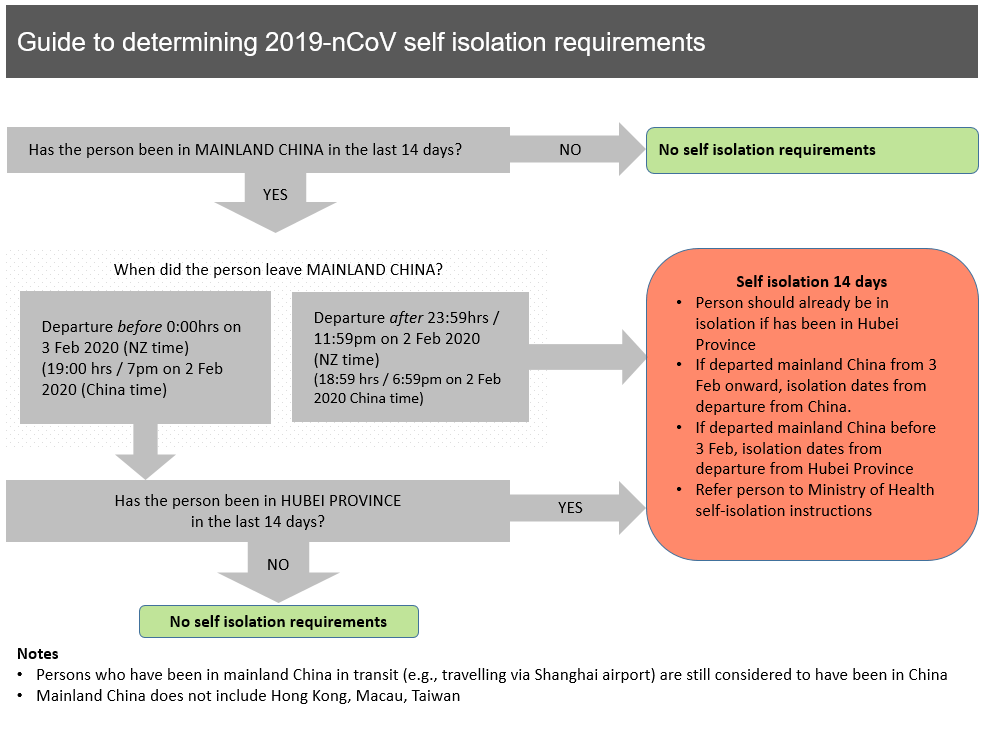 The World Health Organisation announced on 12th Feb 2020 a new name for this new coronavirus disease, COVID-19. This replaces the previous temporary name 2019-nCoV. COVID-19 originated in Wuhan, China, is continuing to spread worldwide.  It is early days at the moment so it is impossible to be sure how this virus behaves. Right now there are NO CONFIRMED CASES in New Zealand so there is no immediate need for concern. Click here to view the real-time tracking map from John Hopkins University.
There is currently no vaccine to prevent COVID-19 infection, and there is no specific antiviral treatment available. Therefore the best way is to avoid being exposed to this virus and to prevent the infection from spreading.
Our receptionists have been instructed to ask ALL patients coming into the clinic:
if you have travelled overseas in the last 14 days OR
if you had close contact with someone who have travelled overseas in the last 14 days
If you answer Yes to either of the above we may ask you to wait outside in your car.
Travellers who become sick within a month of their arrival are encouraged to contact Healthline dedicated coronavirus line on 0800 358 5453 (interpreters will be on hand). DO NOT COME INTO THE CLINIC DIRECTLY. It is important to mention recent travel history, particularly any travel to China and any known contact with someone with severe acute respiratory illness.
What is coronavirus?
Coronaviruses (CoV) are a large family of viruses, they are transmitted between animals and people. A novel coronavirus (nCoV) is a new strain that has not been previously identified in humans. Because it is novel, people do not have immunity against it, and there are no vaccine available yet.
We have yet to determine the source of the outbreak, and we haven not identified an animal source, investigations are ongoing. Preliminary investigations identified environment samples positive for COVID-19 in Huanan Seafood Wholesale Market in Wuhan City, although some early patients did not report visiting this market.
We have now confirmed this virus can be transmitted human-to-human, therefore precautions are now being taken by public health around the world in order to prevent further spread of COVID-19.
Common symptoms & signs
Common symptoms of COVID-19 infection include fever, cough, sore throat, and shortness of breath.
In more severe cases, infection can cause pneumonia, severe acute respiratory syndrome, kidney failure and even death.
Most people who catch the virus don't die but rather they make a full recovery though some are very sick for a while. The mortality rate is not yet known.
How is it transmitted?
We do not yet know exactly how COVID-19 spreads. It is thought to be transmitted most readily by respiratory droplets (droplet spread) produced when an infected person coughs or sneezes. Droplet spread can happen when droplets of an infected person are propelled a short distance (generally up to 3 feet) through the air and deposited on the mucous membranes of the mouth, nose, or eyes of persons who are nearby.
The virus also can spread when a person touches a surface or object contaminated with infectious droplets and then touches his or her mouth, nose, or eye(s). In addition, it is possible that it might be spread more broadly through the air (airborne spread) or by other ways that are not now known.
One of the problems is that it now appears people can be infectious before the flu-like symptoms start, which makes it difficult to manage. A case is considered as potentially infectious 48 hours prior to developing symptoms, while symptomatic and until symptom-free for 24 hours.
How Bad Will the Coronavirus Outbreak Get? Here Are 6 Key Factors https://www.nytimes.com/interactive/2020/world/asia/china-coronavirus-contain.html
What is the incubation period?
It is thought that the incubation period, the time after exposure to the time symptoms appear, maybe as few as 1 day, or as long as 2 weeks.
Unfortunately, it appears the virus can be spread by people during this incubation period, before they become unwell, so there is no effective way to screen at borders and therefore prevent transmission. 
This is the reason why NZ brought in additional border measures from 2 Februrary 2020:
Deny entry to NZ for anyone who has left or transited through mainland China, with the exception of NZ citizens, permanent residents and their family, plus air crews who have been using the appropriate personal protective equipment (PPE).
Everyone who have been in or transited via mainland China in the last 14 days need to self isolate for 14 days after departure from mainland China.
How do I avoid getting sick?
Follow these general principles to help prevent the spread of viruses.
Wash your hands often with soap & water for at least 20 seconds. Use an alcohol-based hand sanitiser that contains at least 60% alcohol if soap and water are not available. This is particularly important after taking public transport.
Cover coughs or sneezes with a tissue, then throw the tissue in a bin.
Staying home if you are unwell.
Avoid close contact with people who are sick, this is particularly important for those who are immunocompromised, babies and the elderly.
If we have serious outbreak in NZ, we would suggest avoiding large crowds but that is a difficult thing to ask.
See WHO advice on protecting yourself and others from getting sick.
Who is a close contact?
A close contact are those:
living in the same household.
Face-to-face within one meter for more than 15 minutes.
A person who spent 2 hours or longer in the same room such as a general practice or Emergency waiting room.
Seated within 2 rows either side on a flight, bus or train for 2 hours or longer.
Direct contact with body fluids or lab specimens, or in the same room when an aerosol generating procedure in undertaken without appropriate personal protective equipment (PPE).
A case is considered as potentially infectious 48 hours prior to developing symptoms, while symptomatic and until symptom-free for 24 hours.
What is self-isolation?
Self-isolation means staying home and avoiding situations where you could infect other people. This means all situations where you may come in contact with others, such as social gatherings, work, school, child care/pre-school centres, university, faith-based gatherings, aged care and healthcare facilities, prisons, sports gatherings, supermarkets, restaurants, shopping malls, using public transport, and all public gatherings.
All travellers who leave from, or transit through mainland China, or if you have been in close contact to a case, are required to self-isolate for 14 days. See Ministry of Health for more info. If you are unsure if you should be self-isolating, please contact Healthline's dedicated coronavirus line for free on 0800 358 5453.
PLEASE DO NOT COME INTO OUR CLINIC DIRECTLY. 
What is the treatment?
There is currently no specific antiviral treatment available. Most people infected will develop viral symptoms and self care recommended include plenty of rest and fluids, with simple analgesia such as paracetamol as required.
Antibiotics do not work against viruses, only bacteria. COVID-19 is a virus and, therefore, antibiotics should not be used as a means of prevention or treatment. However, if you are hospitalized for COVID-19, you may receive antibiotics because bacterial co-infection is possible.
Myth Busters
Does the new coronavirus affect older people only? No, people of all ages can be infected. Older people and those with pre-existing medical conditions such as asthma, diabetes, heart disease appear to be more vulnerable to becoming severely ill.  
Are antibiotics effective in preventing and treating the new coronavirus? No, antibiotics do not work against viruses, only bacteria.
What medicine or supplements should I take? To date there is no specific medicine or supplement recommended to prevent or treat the new coronavirus.
For more visit WHO myth busters
What are the different types of masks and PPE equipment?
Coronovirus, like colds & flus, is believed to be spread mostly by respiratory droplets produced by coughing & sneezing, and talking. If you are unwell, wearing a simple surgical mask will act as a barrier to reduce these droplets from reaching those around you. Our receptionist will ask you to wear a mask if you are unwell, and we ask that you keep this on during your entire visit to our clinic.
Respirators maybe worn by health professionals. Respirators differs from masks in that they seal tight to the face of the wearer. If worn correctly respirators filter particles from the air and protects healthcare workers from exposure to biological aerosols including viruses and bacteria. N95 is a common type used by doctors. In the US, the National Institute for Occupational Safety and Health (NIOSH) testing standards means N95 filters at least 95% of airborne particles. The European Norms (EN) are not directly comparable as they use different test protocols. The EN requires 94% efficiencies for class P2 (FFP2), and 99% for class P3 (FFP3) respirators.